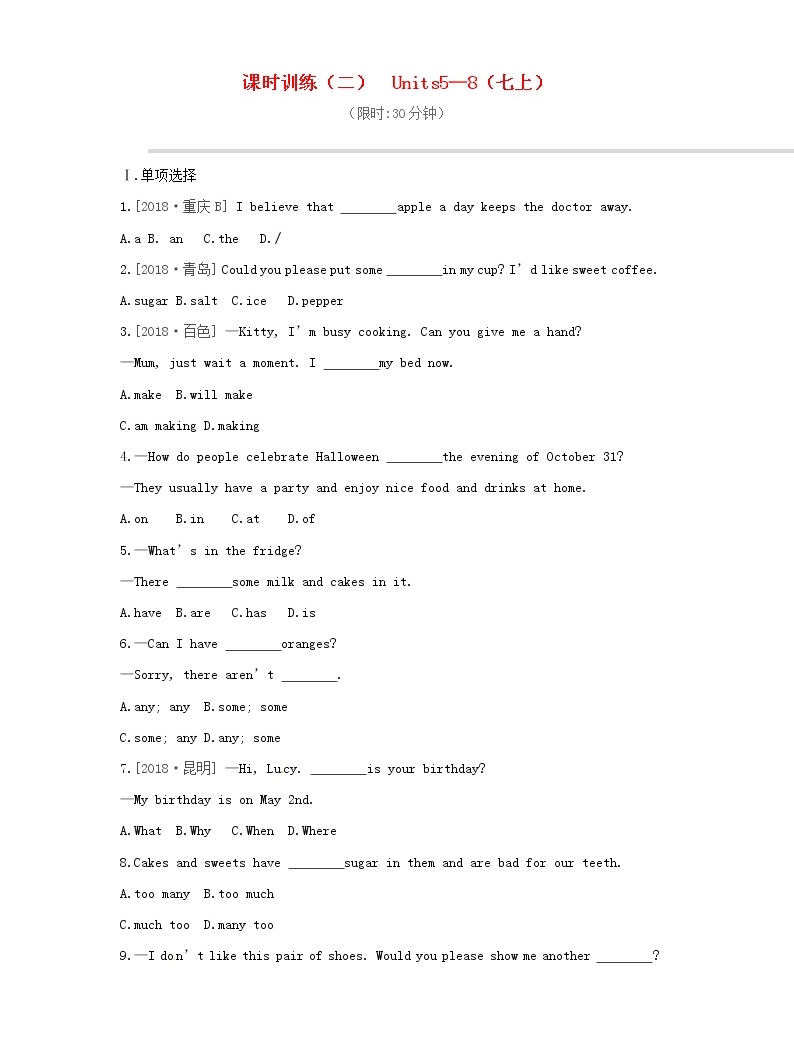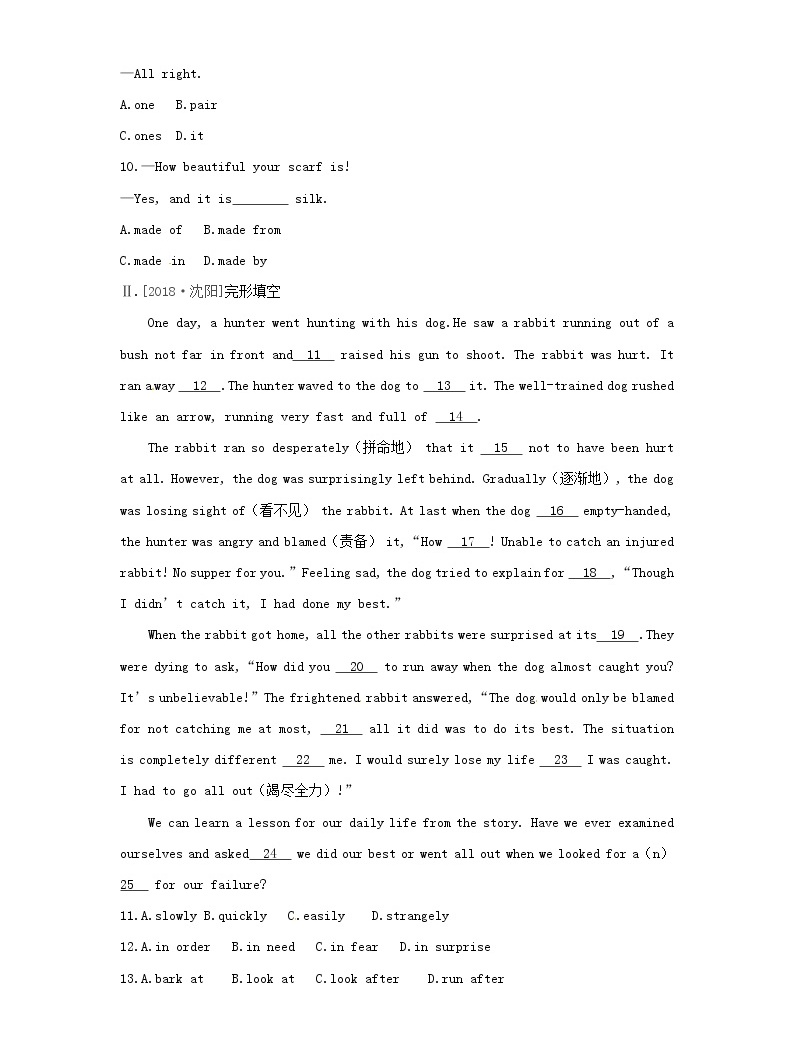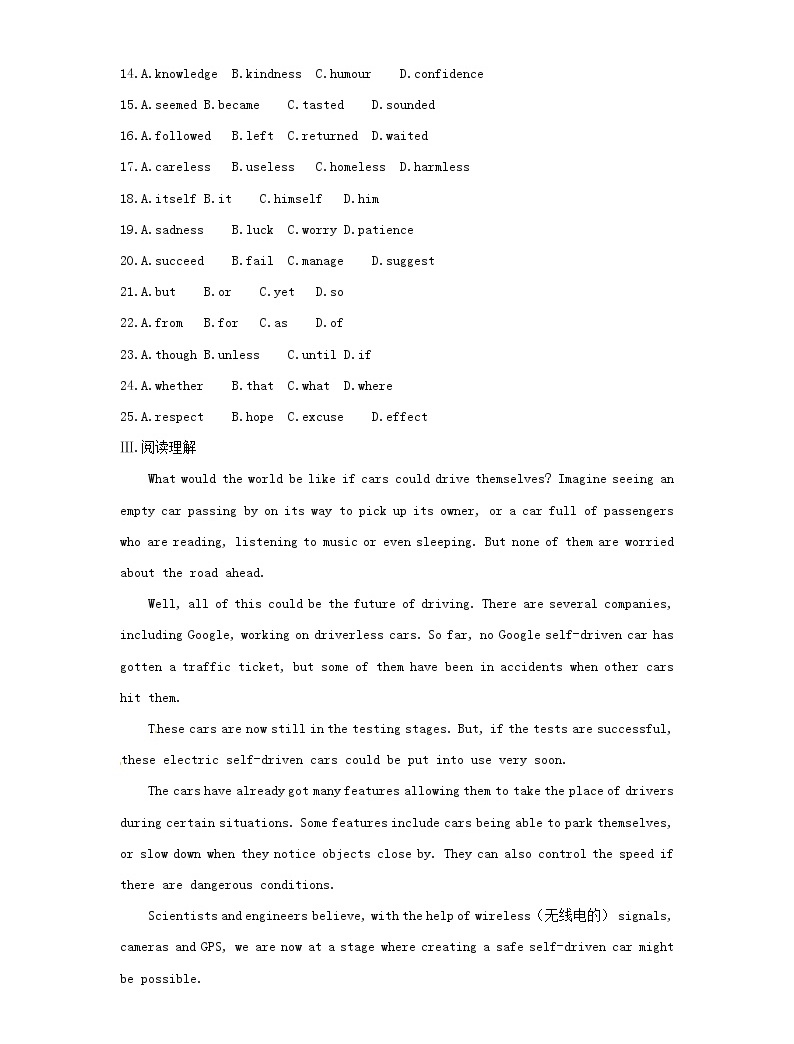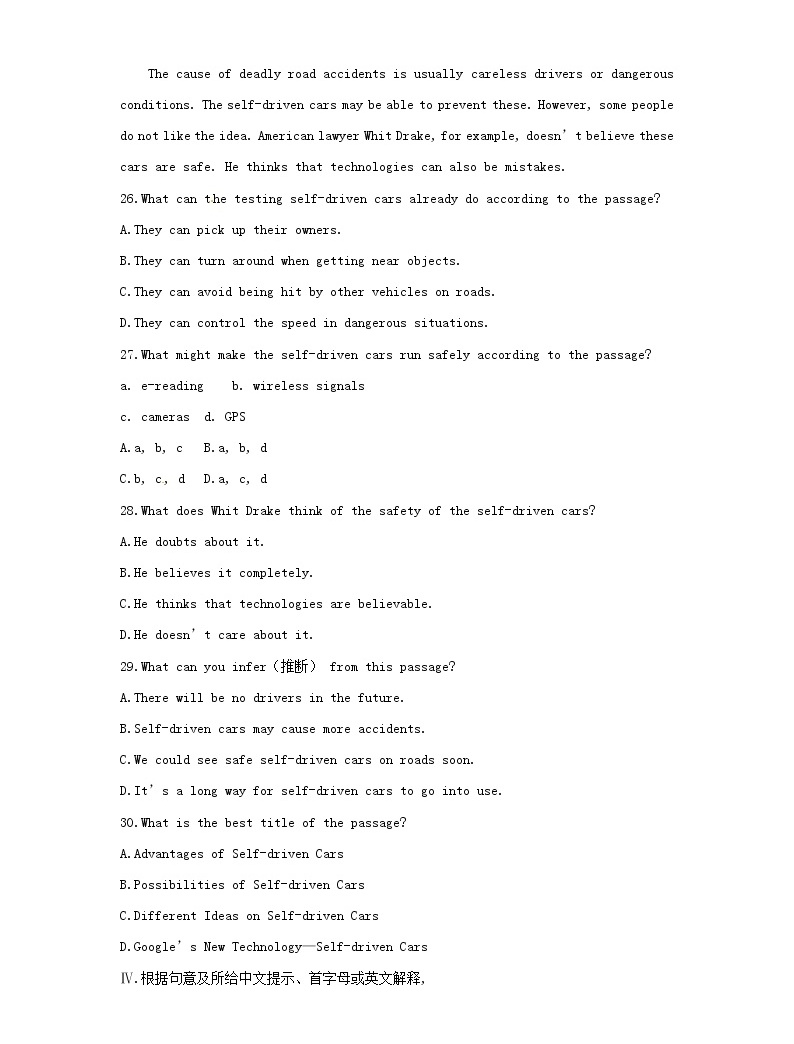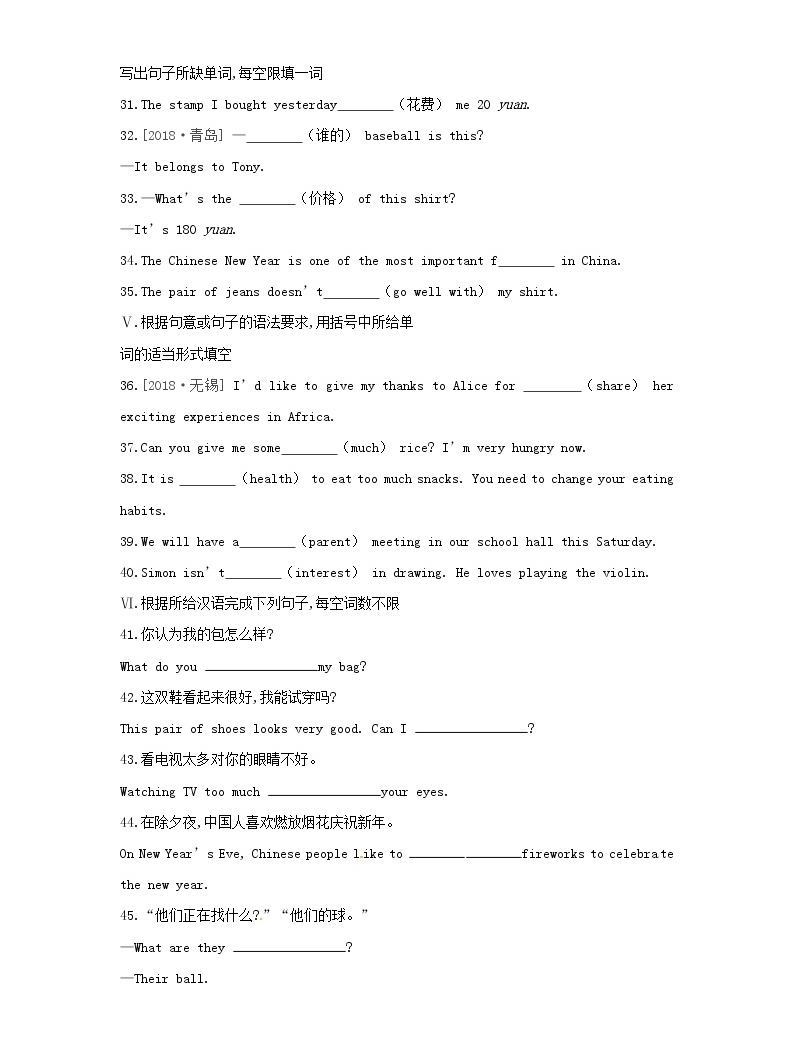 所屬成套資源:江蘇省中考英語一輪復習 教材梳理篇課時訓練
江蘇省中考英語一輪復習 教材梳理篇課時訓練02 Units5-8七上習題(含答案)
展開
課時訓練(二) Units5—8(七上)
(限時:30分鐘)
Ⅰ.單項選擇
1.[2018·重慶B] I believe that     apple a day keeps the doctor away. 
A.a B. an C.the D./
2.[2018·青島] Could you please put some     in my cup? I'd like sweet coffee. 
A.sugar B.salt C.ice D.pepper
3.[2018·百色] —Kitty, I'm busy cooking. Can you give me a hand?
—Mum, just wait a moment. I     my bed now. 
A.make B.will make 
C.am making D.making
4.—How do people celebrate Halloween     the evening of October 31? 
—They usually have a party and enjoy nice food and drinks at home.
A.on B.in C.at D.of
5.—What's in the fridge?
—There     some milk and cakes in it.  
A.have B.are C.has D.is
6.—Can I have     oranges? 
—Sorry, there aren't     . 
A.any; any B.some; some 
C.some; any D.any; some
7.[2018·昆明] —Hi, Lucy.     is your birthday? 
—My birthday is on May 2nd.
A.What B.Why C.When D.Where
8.Cakes and sweets have     sugar in them and are bad for our teeth. 
A.too many B.too much
C.much too D.many too
9.—I don't like this pair of shoes. Would you please show me another     ? 
—All right.
A.one B.pair
C.ones D.it
10.—How beautiful your scarf is!
—Yes, and it is     silk. 
A.made of B.made from 
C.made in D.made by
Ⅱ.[2018·沈陽]完形填空
  One day, a hunter went hunting with his dog.He saw a rabbit running out of a bush not far in front and 11  raised his gun to shoot. The rabbit was hurt. It ran away  12 .The hunter waved to the dog to  13  it. The well-trained dog rushed like an arrow, running very fast and full of  14 . 
The rabbit ran so desperately(拼命地) that it  15  not to have been hurt at all. However, the dog was surprisingly left behind. Gradually(逐漸地), the dog was losing sight of(看不見) the rabbit. At last when the dog  16  empty-handed, the hunter was angry and blamed(責備) it,"How  17 ! Unable to catch an injured rabbit! No supper for you."Feeling sad, the dog tried to explain for  18 ,"Though I didn't catch it, I had done my best."  
When the rabbit got home, all the other rabbits were surprised at its 19 .They were dying to ask,"How did you  20  to run away when the dog almost caught you? It's unbelievable!"The frightened rabbit answered,"The dog would only be blamed for not catching me at most,  21  all it did was to do its best. The situation is completely different  22  me. I would surely lose my life  23  I was caught. I had to go all out(竭盡全力)!" 
We can learn a lesson for our daily life from the story. Have we ever examined ourselves and asked 24  we did our best or went all out when we looked for a(n) 25  for our failure? 
11.A.slowly B.quickly C.easily D.strangely
12.A.in order B.in need C.in fear D.in surprise
13.A.bark at B.look at C.look after D.run after
14.A.knowledge B.kindness C.humour D.confidence
15.A.seemed B.became C.tasted D.sounded
16.A.followed B.left C.returned D.waited
17.A.careless B.useless C.homeless D.harmless
18.A.itself B.it C.himself D.him
19.A.sadness B.luck C.worry D.patience
20.A.succeed B.fail C.manage D.suggest
21.A.but B.or C.yet D.so
22.A.from B.for C.as D.of
23.A.though B.unless C.until D.if
24.A.whether B.that C.what D.where
25.A.respect B.hope C.excuse D.effect
Ⅲ.閱讀理解
  What would the world be like if cars could drive themselves? Imagine seeing an empty car passing by on its way to pick up its owner, or a car full of passengers who are reading, listening to music or even sleeping. But none of them are worried about the road ahead.
Well, all of this could be the future of driving. There are several companies, including Google, working on driverless cars. So far, no Google self-driven car has gotten a traffic ticket, but some of them have been in accidents when other cars hit them.
These cars are now still in the testing stages. But, if the tests are successful, these electric self-driven cars could be put into use very soon.
The cars have already got many features allowing them to take the place of drivers during certain situations. Some features include cars being able to park themselves, or slow down when they notice objects close by. They can also control the speed if there are dangerous conditions.
Scientists and engineers believe, with the help of wireless(無線電的) signals, cameras and GPS, we are now at a stage where creating a safe self-driven car might be possible.
The cause of deadly road accidents is usually careless drivers or dangerous conditions. The self-driven cars may be able to prevent these. However, some people do not like the idea. American lawyer Whit Drake, for example, doesn't believe these cars are safe. He thinks that technologies can also be mistakes.
26.What can the testing self-driven cars already do according to the passage?
A.They can pick up their owners.
B.They can turn around when getting near objects.
C.They can avoid being hit by other vehicles on roads.
D.They can control the speed in dangerous situations.
27.What might make the self-driven cars run safely according to the passage?
a. e-reading b. wireless signals  
c. cameras d. GPS
A.a, b, c  B.a, b, d 
C.b, c, d  D.a, c, d
28.What does Whit Drake think of the safety of the self-driven cars?
A.He doubts about it.
B.He believes it completely. 
C.He thinks that technologies are believable.
D.He doesn't care about it.
29.What can you infer(推斷) from this passage?
A.There will be no drivers in the future.
B.Self-driven cars may cause more accidents. 
C.We could see safe self-driven cars on roads soon.
D.It's a long way for self-driven cars to go into use.
30.What is the best title of the passage?
A.Advantages of Self-driven Cars
B.Possibilities of Self-driven Cars 
C.Different Ideas on Self-driven Cars
D.Google's New Technology—Self-driven Cars
Ⅳ.根據句意及所給中文提示、首字母或英文解釋,
寫出句子所缺單詞,每空限填一詞
31.The stamp I bought yesterday    (花費) me 20 yuan. 
32.[2018·青島] —    (誰的) baseball is this? 
—It belongs to Tony.
33.—What's the     (價格) of this shirt? 
—It's 180 yuan.
34.The Chinese New Year is one of the most important f     in China. 
35.The pair of jeans doesn't    (go well with) my shirt.  
Ⅴ.根據句意或句子的語法要求,用括號中所給單
詞的適當形式填空
36.[2018·無錫] I'd like to give my thanks to Alice for     (share) her exciting experiences in Africa. 
37.Can you give me some    (much) rice? I'm very hungry now.  
38.It is     (health) to eat too much snacks. You need to change your eating habits. 
39.We will have a    (parent) meeting in our school hall this Saturday. 
40.Simon isn't    (interest) in drawing. He loves playing the violin. 
Ⅵ.根據所給漢語完成下列句子,每空詞數不限
41.你認為我的包怎么樣?
What do you my bag?
42.這雙鞋看起來很好,我能試穿嗎?
This pair of shoes looks very good. Can I ?
43.看電視太多對你的眼睛不好。
Watching TV too much your eyes.
44.在除夕夜,中國人喜歡燃放煙花慶祝新年。
On New Year's Eve, Chinese people like to fireworks to celebrate the new year.
45."他們正在找什么?""他們的球。"
—What are they ?
—Their ball.
參考答案
Ⅰ.1.B 考查冠詞的用法。apple以元音音素開頭,其前表示"一個"應用an。故選B。
2.A
3.C 考查動詞的時態。根據答語中的時間狀語now,可知使用現在進行時態。故選C。
4.A 5.D 6.C 7.C 8.B 9.B 10.A 
Ⅱ.[主旨大意] 本文是一則寓言故事。獵人打傷兔子后,揮手讓獵狗去追捕獵物。兔子成功逃脫,最終獵狗空手而歸。文章旨在告訴人們:盡力而為和竭盡全力會產生兩種不同的結果。
11.B 
12.C 考查介詞短語辨析。根據常識可知,兔子被獵人射中,應是驚恐地逃跑了。in fear意為"驚恐地"。故選C。
13.D 
14.D 考查名詞辨析。根據語境可知,受到良好訓練的狗充滿著自信,像箭一樣沖出去。confidence意為"自信",符合語境。故選D。
15.A
16.C 考查動詞辨析。根據語境可知,狗沒追上兔子,空手而歸。return意為"返回",符合語境。故選C。
17.B 18.A 19.B 
20.C 考查動詞辨析。根據語境可知,此處指它們都急著問那只兔子:"當狗幾乎要抓住你的時候,你是如何成功逃脫的?"manage to do sth意為"成功做某事"。故選C。
21.D 
22.B 考查介詞辨析。此處表示對這只兔子來說情況是完全不同的。for意為"對于",故選B。
23.D 考查連詞辨析。根據語境可知,如果兔子被抓住了,一定會沒命。if意為"如果"符合語境。故選D。
24.A 25.C
Ⅲ.26—30 DCACB
Ⅳ.31.cost 32.Whose 33.price 34.festivals 35.match
Ⅴ.36.sharing 37.more 38.unhealthy 39.parents' 
40.interested
Ⅵ.41.think of 42.try them on 43.is bad for/is not good for
44.let off 45.looking for